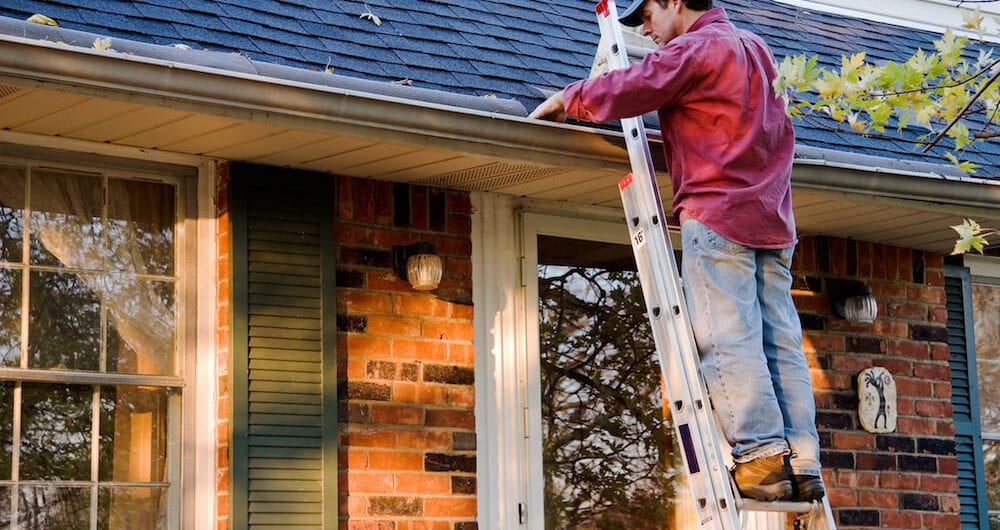 It's officially fall! While most of us welcome the cooler temperatures and shifting colors, the change in weather can have a big impact on your home's foundation. Adding a few simple to-dos to your list can make it easier on your home as temperatures drop.
These 5 tasks are important to do now to help you save money down the road and reduce the risk of serious foundation problems.
1. Clean gutters, downspouts, and drains
Outside drain issues and clogged gutters are common causes of basement water leaks. To prevent water in your basement, check that drains, gutters, and downspouts are clear of leaves and debris. Having a clear pathway for water to flow away from your home prevents it from coming inside. You also want to point downspouts away from the home to avoid water puddles near the foundation.
2. Check your roof
Check your roof before it gets too cold or snowy to do so. If your roof has a leak, this can result in expensive issues down the road. We ask that you only check your roof if you are willing and able to do so safely. Otherwise, there are plenty of local contractors who can professionally inspect your roof for any leaks or cracks.
3. Look for foundation cracks
Take a walk around the outside of your home and basement to look for cracks. While some cracks are worse than others, if you spot any at all, it may be best to have a professional come take a look. Cracks will always get worse over time, so in general, it is best to be proactive about your foundation cracks before they get worse.
4. Install a Sump Pump
If you don't have a sump pump already, it's time you get one. Having a failsafe in case of water in your basement is always a good idea. If you already have a sump pump, make sure to take some key steps to avoid it freezing over the winter. You may also want to have a sump pump battery backup in case you lose power during a storm because, let's face it, Nebraska storms get pretty bad and you don't want to risk the water damage.
5. Waterproof your basement
We saved the most important for last. If you regularly experience basement flooding or leaks every time it rains, it's time to waterproof your basement. You may even need crawl space encapsulation if the water is coming in that way. If you contact BDB Waterproofing, we can tell you exactly what you need to protect your home and your family.
Contact BDB Waterproofing today for a free evaluation. We've helped homes in Omaha since 1999 repair their foundations and waterproof their basements.