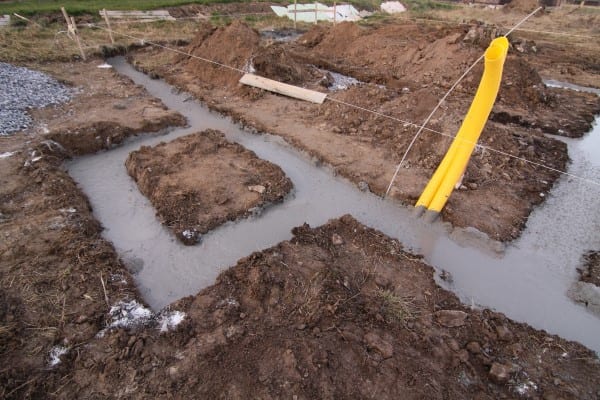 If you have had a leak in your basement, you know water can ruin your floors and walls, prime your home for mold development, and in extreme cases cause damage to your roof! BDB Waterproofing has seen a lot of water damage over the years, and today we want to talk about a common issue seen when we are waterproofing basement walls.
When A Basement Leaks Where the Wall Meets the Floor
Back when your home was first being built, someone poured a concrete footer for your house. A concrete footer "is typically made of concrete with rebar reinforcement that has been poured into an excavated trench. The purpose of footings is to support the foundation and prevent settling. Footings are especially important in areas with troublesome soils." (concrete network) This concrete footer has a slot called a keyway where the poured foundation wall locks into place. The concrete footer and wall are two different pieces. After settling, they often are left with a small gap between the floor and wall known as a cove joint.
The Answer is More Complicated Than You Think
Why don't we just seal up the area between the wall and floor? It seems like that would be the best solution. However, if you sealed your cove joint, the water would just find another way in. Second, the water will cause your sealant to break down over time, eventually getting through.
What Can BDB Waterproofing Do?
Exterior Drain Tile System
Exterior (and interior) Drain Tile Systems are known for saving basements from water! If your home is new, chances are your home has an exterior drain tile system. If your home has a basement or a crawl space, it is now a regulation to have a system to help with any potential flooding issues.
How does an Exterior Drain Tile System Work?
This system installs a pipe around the structure of the building – and the job of the pipe is to direct water away from said structure. PRO TIP: Be careful who you hire. It is important that your professional knows the ins and outs of laying an exterior drain tile system. The key is knowing where to channel the water. You do not want it somehow seeping back into your home! You want it going to a sewer system, storm drain, etc.
Contact BDB Waterproofing – The basement waterproofing experts!
Is your basement experiencing leakage? BDB Waterproofing's basement waterproofing professionals can inspect your property and give you a proposal for repair. Call us today at 402-779-3165 or send us an email to request a free estimate.