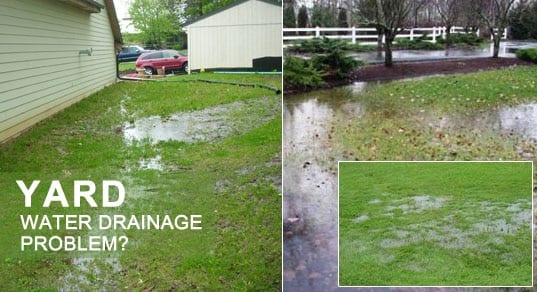 We have certainly been seeing our fair share of rain in Nebraska lately. While that's great for our plants and gardens, it could potentially be very damaging to your home if you have poor drainage and improper landscaping.
Drainage and landscaping actually play a big part into your homes foundation. When you have drainage issues, water can pool near the house and build up around your foundation. This puts pressure on your foundation walls, causing them to crack and leak. Water will always find the path of least resistance, so sometimes that means through the foundation, basement floor or even your crawl space.
Common Yard Drainage Problems and How to Fix Them
To prevent water from building up and putting pressure on your foundation, you've got to keep the water away from the base of your home.
Gutter and Downspout Problems
Leaky, clogged gutters and downspouts that don't extend far enough away from your home can easily lead to water pooling up against the foundation. Be sure to regularly clean your gutters to keep water flowing and not spilling over. You can also install screens to protect debris from collecting and clogging your gutters so you can clean less frequently. Also, be sure to extend downspouts as far away from your foundation as possible.
Improper Grading and Slopes
If water pools near your home or in your yard, you most likely have improper grading. We recommend you add dirt to the area until the soil slopes outward from the house, also known as grading. It is also important when you consider landscaping, as raised flower beds and gardens can either effectively channel water or be a major source of drainage problems.
Remember not to only consider your landscaping, but any concrete surfaces as well. Pavement and other hard surfaces also need a proper slope to allow rain water to flow away from the home.
Basement Waterproofing Solutions
Soil grading and downspout extensions are essential to keeping your basement dry and preventing foundation cracks, however a basement waterproofing system will be the only way to absolutely ensure that water stays out of your basement.
BDB Waterproofing offers waterproofing systems that divert water that comes in at the cove joint, where the floors and walls meet. Water goes under the slab and into a drain tile system that is installed alongside the base of the foundation. Its patented design has a rubber seal on the back that presses against the wall. This seal prevents moisture and soil gasses, such as radon, from entering your home, making the air in your home cleaner and healthier.
Why Use BDB Waterproofing?
With BDB Waterproofing, you get just what you need to fix your problem. We want to help you solve your problems permanently, so we won't try to sell you something you don't need. And of course, all of our work comes with a warranty.
We provide our services throughout Omaha, Lincoln and eastern Nebraska, as well as Council Bluffs and western Iowa. Call us at 402-779-3165 or email us for a complete basement inspection and no-obligation repair cost estimate.