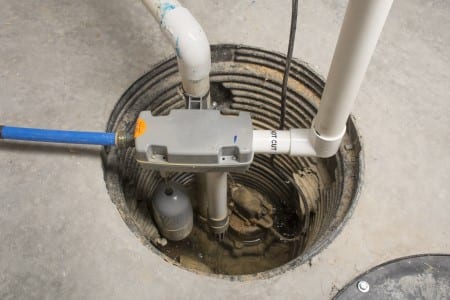 A sump pump is your home's line of defense against rain, melting snow, etc. It's important that you are performing regular maintenance on your sump pump to ensure that it is working properly – especially before you have water trying to get into your basement! The team at BDB Waterproofing has provided a full list of your sump pump maintenance "to-do's" for the winter months.
Your Sump Pump Checklist:
Disconnect and clean your sump pump.

Most sump pumps can easily be cleaned using a hose, paper towels, and a bristle brush. Before you start to clean, make sure to disconnect your sump pump from the power source and discharge line. Remove your sump pump from the pit and clean the reachable dirt, small rocks, and residue. Once that is clean, see if you can remove the grate at the bottom of the pump and clean. If your sump pump pit is dirty, wipe it up before re-inserting the pump.

Check the pump's line for clogs.

Every now and then, your pump will carry small particles through the sump pump's line. Check to make sure that none have gotten stuck or wedged in the pump, the grate or discharge line that blocks water flow and causes the pump to backup.

Confirm your sump pump is connected to power.

After cleaning your pump, double-check your sump pump is re-connected and turned on. We don't want you to work this hard all for it not to be turned on and working when that next storm comes in!

Test out your sump pump.

Pour a bucket of water into the sump pit. Properly working, your sump pump will turn on and pump the water away in a few moments. If the water isn't pumping away, check on the float device – the sump uses this to detect when water is filling up the basin. It could be stuck due to dirt and sediment. If that is loose, and the water is still not getting pumped, you will need to call for your pump to be serviced.

Have an extra discharge hose handy.

Especially during the winter months, it's important to have an extra discharge hose in the event that your primary one freezes or breaks. During the winter if your hose freezes, your extra hose can easily replace the frozen one. Let that one thaw and use it for the next emergency case.

Keep Your Heat On

Basements get cold in the wintertime. Your pipes will get even colder. Keep the heat on during the winter so your sump pump's pipes do not freeze!
Sump Pump Alarm
When BDB Waterproofing installs a sump pump system, we include a high-water sump pump alarm that will notify you if the pump stops working. We also add a check valve, which prevents water from the sump line from draining back into the sump basin after the water has already been discharged from the home.
Sump Pump Battery Backup
If you are looking for additional protection against a flooded basement, a sump pump battery backup is a great option. If your power goes out or the sump pump malfunctions, your sump pump battery backup will automatically activate and operate for several hours leaving your basement protected.
Does Your Sump Pump Need Replaced?
BDB uses tough, reliable sump pumps in all of our basement and crawlspace systems. Our sump pumps use cast iron or stainless steel construction (depending on pump series used), and are continuous duty rated for worry-free operation. Our sump pumps are also highly energy-efficient, using up to 172% less energy than conventional pumps, and come with a no-hassle, three-year warranty on all systems.
Contact BDB Waterproofing Today
Check in on your sump pump today. If you happen to find any issues with the sump pump in your basement or crawl space pump, contact BDB Waterproofing today. We offer free estimates and consultations.